Boeing C-137 Stratoliner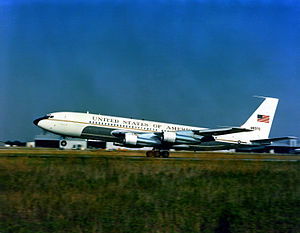 The Boeing C-137 Stratoliner was a VIP transport aircraft derived from the Boeing 707 jet airliner used by the United States Air Force. Other nations also bought both new and used 707s for military service, primarily as VIP or tanker transports. In addition, the 707 served as the basis for several specialized versions, such as the E-3 Sentry AWACS aircraft. The designation C-18 covers several later variants based on the 707-320B/C series.
USAF procurement of the Boeing 707 was very limited, amounting to three Model 707-153s designated VC-137A. When delivered in 1959 these had four 13,500 lb (6123 kg) dry thrust Pratt & Whitney J57 (JT3C6) turbojets; when subsequently re-engined with 18,000 lbf (80.1 kN) dry thrust TF33-P-5 (JT3D) turbofans they were redesignated VC-137B. Only one other variant served with the USAF: this was the VC-137C Air Force One presidential transport, the two examples of which were Model 707-320B Intercontinentals with specialized interior furnishings and advanced communications equipment. Two further non-presidential C-137C aircraft were later added.