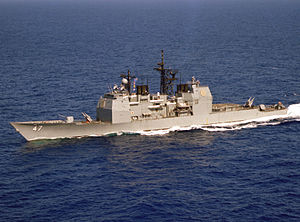 USS Ticonderoga (DDG/CG-47) was a guided-missile cruiser of the United States Navy. Homeported in Pascagoula, Mississippi, the "Tico" was the lead ship of her class.
Ticonderoga was the first combatant ship to feature the Aegis combat system (a limited version of the system had been tested on Norton Sound). This allows the ship to track and engage multiple targets (aircraft) much more effectively than any ship previously.
CG-47 is the fifth United States Navy vessel to carry on the name Ticonderoga. The ship was the fifth ship named for the Capture of Fort Ticonderoga in 1775.
The United States Navy built the first Aegis cruisers using the hull and machinery designs of Spruance-class destroyers. Ticonderoga was ordered as a guided missile destroyer, but redesignated as a cruiser before she was laid down.
The contract to build DDG-47 Ticonderoga was awarded to Ingalls Shipbuilding on 22 September 1978. On 1 January 1980, she was redesignated as a guided missile cruiser, CG-47. Her keel was laid down on 21 January 1980, the 35th anniversary of the devastating kamikaze attack on the Essex-class aircraft carrier Ticonderoga. CG-47 was launched on 25 April 1981 and was delivered on 13 December 1982. She was commissioned on 22 January 1983 with First Lady Nancy Reagan, the ship's main sponsor, having the honor of christening the ship on 16 May 1981.