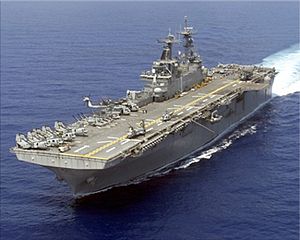 The Wasp class is a class of Landing Helicopter Dock (LHD) amphibious assault ships operated by the United States Navy. Based on the Tarawa class, with modifications to operate more advanced aircraft and landing craft, the Wasp class is capable of transporting almost the full strength of a United States Marine Corps Marine Expeditionary Unit (MEU), and landing them in hostile territory via landing craft or helicopters. All Wasp-class ships were built by Ingalls Shipbuilding, at Pascagoula, Mississippi, with the lead ship, USS Wasp, commissioned on 29 July 1989. Eight Wasp-class ships were built, and as of 2016, all eight are active.
The Wasp class is based on the preceding Tarawa-class design.
The main physical changes between the two designs are the lower placement of the ship's bridge in the Wasp class, the relocation of the command and control facilities to inside the hull,
Each Wasp-class ship has a displacement of 40,500 long tons (41,150 t) at full load, is 831 feet (253.2 m) long, has a beam of 104 feet (31.8 m), and a draft of 27 feet (8.1 m).