NSN
5310-00-880-7010
Self-locking Nut Extended Washer
5310008807010
Item Specifics
Federal Supply Class (FSC)

Nuts And Washers

National Item ID Number (NIIN)

008807010

Hardness Rating

49.0 rockwell c maximum

CQFM

Material

Steel overall

MATT

Thread Size

0.086 inches

CQJX

Nut Style

Hexagon

ACTA

Height

0.080 inches minimum and 0.100 inches maximum

ABKW

Locking Feature

Prevailing torque all metal design

AAUM

Lubrication

Dry film lubricant

ABAJ

Washer Outside Diameter

0.167 inches maximum

AAVX

Washer Thickness

0.010 inches minimum

ADEM

Width Across Flats

0.122 inches minimum and 0.127 inches maximum

ASDB

Surface Treatment Document And Classification

Qq-p-416,ty 2,cl 3 fed spec single treatment response overall

STDC

Surface Treatment

Chromate overall

SFTT

Temp Rating

450.0 deg fahrenheit

AZKQ

Thread Class

3b

AAJD

Thread Direction

Right-hand

AAJF

Thread Quantity Per Inch

56

CMLP

Thread Series

Unjc

BZRR
Item Identification
| Nuts And Washers
5310-00-880-7010, A nut having 6 flat sides and an integral washer which extends beyond the flats or periphery. an integral feature is incorporated for locking on the threads of a mating member.
| Supply Class (FSC) | NSN Assignment | NIIN | Item Name Code (INC) |
| --- | --- | --- | --- |
| 5310 | Jan 01, 1960 | 008807010 | 29730 (Locking, Extended Washer, Hexagon Nut, Self) |
End Item Applications
NSN 5310-00-880-7010 end item applications/platforms
Electro-mechanical Actuator Linear
Electro-mechanical Actuator Rotary
Test Adapter
Interface Device Adapter Assembly
El Adapter Control
Airborne Laser Trac
Air Conditioner
C-2a (reprocured) Aircraft (EIC BPN)
Sof ( Ac-130h Aircraft Mc-130h (EIC ATF)
Radio Frequency Amplifier
Video Amplifier
Amplifier Assembly
Amplifier-power Supply
Amplifier-relay Assembly
Antenna Module Assy
Backplane Assembly
Radio Beacon Set
Bell Crank
Instrument Mounting Bezel
Interference Blanker
Interface Ada Cable
Special Purpose Cable Assembly Electrical
Communicati Central
Communications Central
Electrical Equipment Chassis
Processor Chassis F
Relay Chassis
Circuit Card Assemb
Circuit Card Assembly
Flight Computer
Flight Con Computer
Navigational Computer
Spoiler Computer
Stall Inhi Computer
Oxygen Concentrator Aircraft
Receptacle Connector Electrical
Connector Panel Ass
Amplifier Control
Antenna Control
Automatic F Control
Computer Control
Countermeasures Set Control
Countermeasures Transmitting Set Control
Generator Control
Gyroscope Control Attitude-heading
Indicator Control
Mode Selector Control Navigation
Radar Set Control
Radar Set Turntable Control
Radiosonde Set Dispenser Control
Transmitter Control
Transmitter Control Radio
Landing Gear Control Assembly
Quadrant Control Assembly
Control Assy
Control-display Pan
Control-display Sys
Control-display Unit
Control-indicator
Engaging Controller Automatic Pilot
Flat-sla Controller
Flight Controller Automatic Pilot
Logic Controller
Electronic Control Unit Machine Gun
Navigation Set Control Unit
Electronic Counter Digital Readout
Subassembly Countermeasure Set
Countermeasures Set
Rotary Coupler Radio Frequency
Band Deck Assembly
Radar Signals Detecting Set
Peak Power Detector
P Detector Assembly
Optoelectronic Display
Head-up Display Unit
Distribution Box
Signal Control Drawer
Antenna Drive
Tuning Drive
Air Conditioning-heating Duct Assembly Aircraft
Flare Ejector Set
Electronic Componen
Electronic Components Assembly
Radio Frequency Exciter
Electronic Test Extender Card
Filter Assembly
Fire Direction Cent
Actuating Flap Slat
Flash Sensor Assy
Aircraft Gearbox Assembly
Electronic Marker Generator
Intercept-aerial Guided Missile Telemetry
Cargo-transport Helicopter
Electronic Components Housing
Housing Subassembly
Azimuth-elevation-range Indicator
Digital Display Indicator
Interconnecting Box
Ante Interface Test
5 Volt Inverter
Power Inverter Static
Communication Matrix
Subassembly Matrix
Sta Matrix Assembly
Win Matrix Assembly
Message Entry Devic
Microwave Assembly
In Flight Monitor A
Radio Frequency Monitor
Network Assembly
Ohmmeter
Oscillating Group
Noncrystal Controlled Oscillator
Control Panel
Control Panel Elect
Control Panel Electrical-electronic Equipment
Manual Trim Panel
Offset Panel
Power Distribution Panel
Protection Panel Electrical System
Cont Panel Assembly
Data Panel Assembly
Stor Panel Assembly
Panel Assembly Auto
End Seal Plug Electrical Connector
Power Supply
Power Supply Assembly
Power Supply Subassembly
Pressure Vessel Ass
Printed Wiring Board
Flight Control Processor
Processor Unit
Aircraft Pylon
Aircraft Pylon Section
Bomb Ejector Rack Aircraft
Electrical Equipment Rack
Rack Assembly
Surveillance Radar
Radar Set Subassembly
Radar Surveillance
Radiac Set
Radio Set
Countermeasure Receiver Subassembly
Radar Receiver Subassembly
Receiver-transmitter Subassembly
Countermeasures Receiver-transmitter Subassembly
Optical Instrument Reflector Assembly
Seeker Subassembly
Telev Sensor System
Servo And Track Ass
Antenna Pha Shifter
Radar Signal Simulator
B-1 Aircraft Support Equipment (EIC ACF)
B-52 Aircraft Support Equipment (EIC ABF)
Electronic Switch
Push Switch
Radio Frequency Transmission Line Switch
Switch Assembly
Telephone Set
Communicat Terminal
Mini-sace Test Consoles (EIC AUN)
Test Facility Kit
Test Program Set
Airborne L Test Set
Arm-155/156 Test Set (EIC ASN)
Control-monitor Test Set
Electronic Systems Test Set
Indicator Test Set
Photographic Test Set
Radar Test Set
Radio Test Set
Signal Data Converter Test Set
Radar Test Set Group
Aircraft Components Test Set Subassembly
Electrical And Electronic Test Equipment Test Set Subassembly
An/tlq-17a Traffic Jam (EIC AKA)
B-1b Aircraft Trainer (EIC AUF)
Ejection Seat Trainer
Liquid Oxyg Trainer
Automatic Flight Control Electronic System Training Aid
Transistor
Position Transmitter
Radar Transmitter
Rate Of Flow Transmitter
Transmitter Subassembly
Radar Transmitter Subassembly
Transponder Set
Trigger Control Ass
Unit 3 Assembly
Pylo Valve Assembly
Waveguide Assembly
Item Identification Guide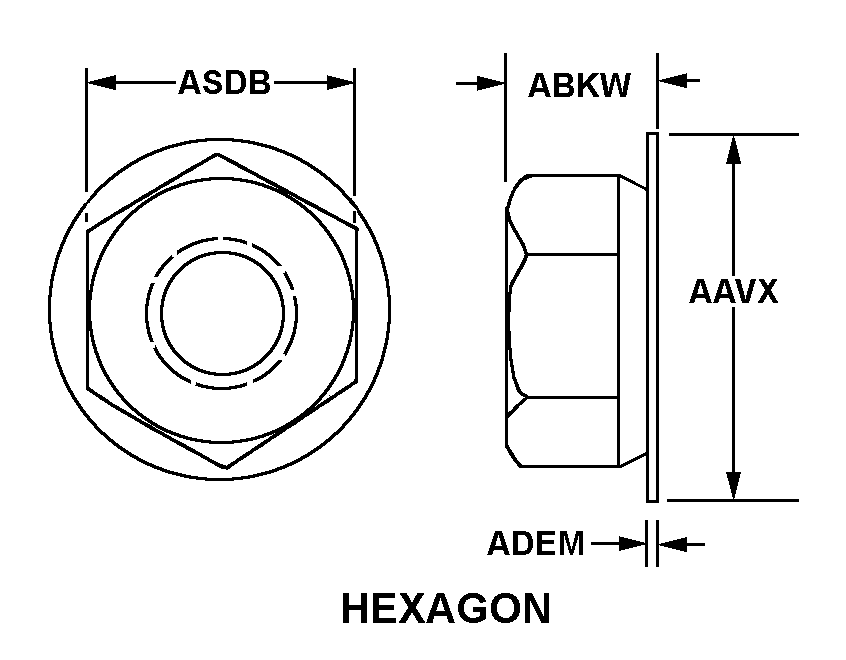 Self-locking Nut Extended Washers
Cross Reference
National Motor Freight
NMFC: A six position numeric code, which divides articles into groups or classes according to physical characteristics. The classification is based on truckloads vs. less than truckload.
| Code Description | Code | Value | Meaning |
| --- | --- | --- | --- |
| NMF Description | NMFC | 093486 | Bolts, Nuts Or Screws, Noi (sub 3) |
| Universal Freight Code | UFC | 48950 | |
| Less than a truck load rating | LTL | W | Rating variable |
| Water Commodity | WCC | 573 | Bolts or nuts (iron or steel),(less than 35 feet) |
| Type of Cargo | TCC | Z | No special type of cargo code applicable |
| Special Handling | SHC | 9 | Other or no special handling required (sh) |
| Air Dimension Code | ADC | A | Shipment is not a consolidation and does not exceed 84 inches in any dimension. |
| Air Commodity | ACC | B | Construction materials: includes paint and related materials, prefabricated building, wood products, metal and composition materials and their products, commercial hardware and miscellaneous items, cement, asphalt, building maintenance materials. |
| Air Special Handling | ASH | Array | No special handling required. |
Trade Control Compliance
Schedule B Export Code: A ten position numeric code that identifies an item exported overseas. this unique identification code is assigned by the U.S. Census Bureau.
| Schedule B | Sch. B Description | Demilitarization | Classification | ITAR Regulation |
| --- | --- | --- | --- | --- |
| 7318160000 | Nuts of iron or steel | Non-usml/non-ccli - no demil or dod tsc required. department of commerce may impose licensing requirements to certain destinations. (note 9). | Unclassified | Not ITAR Controlled |
MOE / End Users
Represents the subdivisions of a US governmental organization or an agency of the North Atlantic Treaty Organization (NATO), and other friendly governments and international organizations participating in the federal catalog program.
| | Country / Entity Name | MOE |
| --- | --- | --- |
| | Austria | WB |
| | Poland | WP |
| | Brazil | YA |
| | Spain | YB |
| | Singapore | YJ |
| | Malaysia | YW |
| | Australia | ZA |
| | Canada | ZC |
| | New Zealand | ZE |
| | France | ZF |
| | Germany | ZG |
| | Korea, Republic Of | ZH |
| | United Kingdom | ZK |
| | Netherlands | ZN |
| | Portugal | ZP |
| | Italy | ZR |
| | Denmark | ZS |
| | Greece | ZU |
| | Turkey | ZW |
| | Namsa (user) | ZX |
| | United States | ZZ |
| | Department Of The Navy | ZZ |
DSOR
MOE Rule
NIMSC
No MOE rules found for this NSN.
Material & Special Handling
Item material and handling information
| Code Description | Value | Meaning |
| --- | --- | --- |
| HMIRS | N | Indicates there is no data in the hmirs and the nsn is in a fsc not generally suspected of containing hazardous materials. |
| Precious Metals Indicator | A | Item does not contain precious metal. |
| Criticality Code | X | The item does not have a nuclear hardened feature or any other critical feature such as tolerance, fit restriction or application. |
Management
Rec. / Rep. Code: Special program consumables
CTL: 9B----9
Air Force
| | |
| --- | --- |
| Fund | SF – Stock fund applicable to items managed for the air force by the respective inventory control point. |
| Budget | 9 – Air force decentrally managed |
| Material Management | SX – Brac mmac for oc-alc |
| Price Validation | V – The current standard price has been validated. - the item has been analyzed in conjunction with the zero overpricing program and is in the accepted price range. -the item was procured under open competition and under the competitive arena the price is considered fair and reasonable. -zop or standard price challenges are permissible but must be supported by adequate justification. |
Air Force Management Code Definition
| | |
| --- | --- |
| Fund | A two position code that classifies an item into categories in terms of funding and budgeting. |
| Budget | Identifies investment items to budget programs from which item is funded. |
| Material Management | Identifies an item of supply to be managed by a specific activity manager. |
| Price Validation | Indicates validity of the recorded unit price. |
Marines
| | |
| --- | --- |
| Stores Account | 1 – Marine corps stock fund account item. |
| Combat Essentiality | 5 – Critical repair part to a combat essential end item. those parts or components whose failure in a combat essential end item wi |
| Management Echelon | B – All commodities |
| Material Identification | B – Consumable repair parts |
| Operational Test | |
| Physical Category | |
Marines Code Definition
| | |
| --- | --- |
| Stores Account (SAC) | Indicates the type of funds employed within the marine corps in supply support operations. |
| Combat Essentiality (CEC) | Establishes if an item is essential to the operational readiness of a weapon system or the conduct of a military mission, or that a functional part contributes to the tactical and essential operations of an item component or assembly, and its failure would render the item inoperable or incapable of fulfilling its mission. |
| Management Echelon (MEC) | Classifies items into categories by material and procurement echelon. |
| Material Identification (MIC) | Identifies method of accounting, degree, and type of control to be maintained for the item and to identify material by specific purpose, type, or classification for the war reserve system. |
| Operational test (OTC) | Indicates special procedures must be performed on an item of supply while under care-in-stores or as a part of the issue process. |
| Physical Category (PCC) | Indicates category for picking, packing, and marking items for shipment. |
Navy
| | |
| --- | --- |
| Cognizance | 9B – Naval inventory control point, mechanicsburg |
| Special Material | |
| Requisition Restriction | |
| Special Material Content | 9 – Non-hazardous or non-sensitive item, does not require hazardous or special handling, packaging or precautions |
Navy Management Code Definition
| | |
| --- | --- |
| Cognizance (COG) | Identifies the inventory manager (IM) and inventory control point (ICP). |
| Special Material (SMIC) | Categorizes material on the basis of requirements for source or quality control, technical design, or configuration control, procurement, stocking and issue control, special receipt, inspection, testing, storage, or handling |
| Req. Restriction (IRRC) | Item requisition instructions. |
| Special Material (SMCC) | Indicated that an item represents or contains peculiar material requiring special treatment, precautions, or management. |
Army
| | |
| --- | --- |
| Accounting Requirements | X – Expendable item. an item of army property coded with an arc of ``x'' in the amdf. expendable items require no formal accountability after issue from a stock record account. commercial and fabricated items similar to items coded ``x'' in the amdf are considered expendable items. |
| Material Category 1 | T – Industrial supplies (dla/gsa items) |
| Material Category 2 | 2 – Stock fund secondary items |
| Material Category 3 | 2 – Nonreparable items (exclusive of insurance and provisioning items). this code will be used to identify items which are not reparable. |
| Material Category 4 & 5 | 00 – Dla/gsa-managed items that cannot be identified to a specific army weapons systems/end item |
Army Management Code Definition
| | |
| --- | --- |
| Accounting Requirements | Accounting Requirements Code (ARC): a one position alpha code that indicates the accountability of an item of supply. |
| Material Category 1 | Material category and inventory manager. |
| Material Category 2 | Appropriation and budget activity account. |
| Material Category 3 | Management inventory segment. |
| Material Category 4 & 5 | Specific group / generic category. |